Our beauty parlour offers Threading, Upper Lips, Chin & full face hair removal service.
Threading also know as khite or fatlah is an ancient and well know practice of removing hair from the eyebrows, chin, upper lips and facial area.
Our prices are very reasonable and YES, it is pain free!!!
Get perfect shape and finish for your eyebrow by removing unwanted hairs from your brow. A perfect alternative to waxing which may cause skin irritation.
We maintain hygiene by disposing the thread and other materials used. You can also read what our clients say about our service from our clients section. Facial threading is an art and we pride in doing this art very well.
Get your eyebrows massaged done at the end. We have a large satisfied client base in Melbourne. Use tweezers for removing eyebrow hair will be painful and often does not attend good shape. Experience the easy and pain free hair removal of unwanted hair using threading.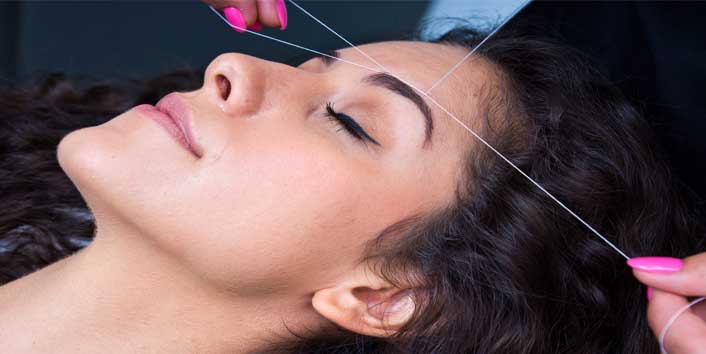 We are located in Forest Hill Melbourne with our clients from:
- Vermont
- Nunawading
- Mitcham
- Burwood
- Ringwood
- Lilydale
- Doncaster
- Blackburn
- Box Hill and other melbourne south east suburbs.
Organic Threads: At our beauty salon, we also offer organic threading which is made of organic cotton free from chemicals. The end thread product is environment friendly and also friendly on skin. Ask us about the details on this organic threading and what benefits it offer.
Our specialized and trained beautician offers irritation free threading service for clients in Melbourne. You can book an appointment online using our contact form.
If you are looking for Brow Salon close from Knox City, then head to Naaz Parlour. Conveniently located in Forest Hill. Friendly and homely enviornment, you will definitely love having your brows done regularly from Naaz Beauty Salon.
Beauty Salon in Melbourne also offering Full body Waxing, Facial, Hair Cut, Pedicure, Manicure, Hair Spa, Hair Smoothening, Hair Rebonding and other advanced beauty and hair treatment to Indian, Pakistani, Sri lankan and other beautiful ladies.
We have the best brow shaping artist in Melbourne
Eyebrow threaded and shaped is a very much a pain free process and yes threading is always preferred over waxing.
There is no chemical being used close to sensitive eyes. There is no itching or sticking feeling. It is a natural and very trusted process of removing hair from eyebrows.